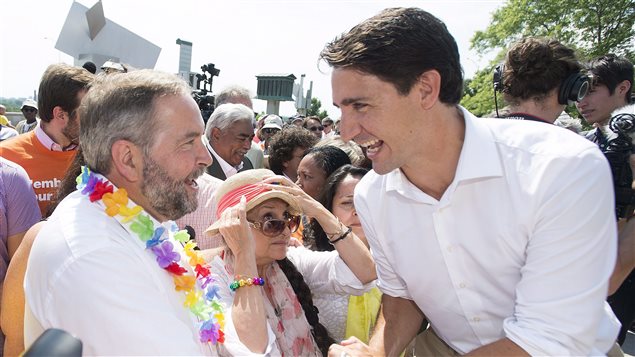 Tom Mulcair and Justin Trudeau at Montreal's Pride Aug 16, 2015
It's sad that in Canada in 2015, we've grown so accustomed to Stephen Harper's absences from the country's major Pride celebrations that we almost expect it every year. Instead, we shrug and barely notice his continued non-leadership.
Harper's absence yet again from Montreal's Pride yesterday was "noted," remarked NDP Leader Tom Mulcair. It was all the more glaring considering all the other major party leaders including Mulcair, Liberal Leader Justin Trudeau, Bloc Leader Gilles Duceppe and Green Party Leader Elizabeth May were present yesterday. The best the Conservative party could muster were two obscure local Montreal candidates.
Of course, I'm sure many Tories will gripe that Mulcair, Trudeau, and Duceppe would, of course, show up to Montreal's Pride as they're from that city. However, Mulcair and Trudeau also showed up at Toronto's Pride in June. Trudeau was also present at Vancouver's Pride earlier this month, despite Harper's early election call that day. Attending any of these celebrations shows important symbolic support for LGBT people.
But as we know Harper will have none of that. Harper doesn't even attend Pride celebrations in his home city of Calgary, nor Edmonton. He simply doesn't care about LGBT Canadians, or at least he's happy to be seen as not caring. It's one of his little tricks for keeping his bigoted base happy and their donations rolling in to the Conservative Party. He'll do nothing legislatively to attack gays (at least, not since 2006 when he half-heartedly attempted to revisit equal marriage and lost), but he's been more than happy to ignore LGBT issues completely for 9 years, as well as
quietly de-fund LGBT arts festivals and organizations here and there.
Harper has never turned down an opportunity to turn down an opportunity to show symbolic support for LGBT Canadians. After almost 10 years of this, it's beyond shameful. It's yet another reason why Harper needs to go as soon as possible.